MARKETING AUTOMATION SYSTEMS THAT TRANSFORM STRATEGY INTO REALITY.

BLAIRCOMM is a SharpSpring partner. We offer fully managed, industry-leading, marketing automation systems that help marketers drive more leads, convert more to sales, and optimize marketing ROI with breakout technology—at affordable prices. We develop, configure and fully manage all-in-one revenue growth platforms that can be directed from user-friendly dashboards on the desktop and from within mobile apps. This system simplifies the complex task of marketing your business, so you can achieve real results. Our end to end cloud based systems include full Email & Content Marketing, Lead Generation, Analytics & Campaign Tracking, user-friendly CRM, Sales Automation & Management, Social & Production Management and more.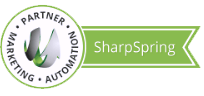 Automate every customer journey. Click the logo to see everything you need to grow in one managed solution.