WE DESIGN, DEVELOP & MAINTAIN 
LEADING EDGE WEBSITES FOR BUSINESS.
TO DEVELOP A BRANDED WEBSITE FOR BUSINESS TAKES MORE THAN JUST PROGRAMMERS. It takes marketing intelligence; a deep understanding of business and how it works; experience in brand and marketing communications; and breakout creative backed by leading-edge web technology. We create branded websites that are frontline strategy against the competition.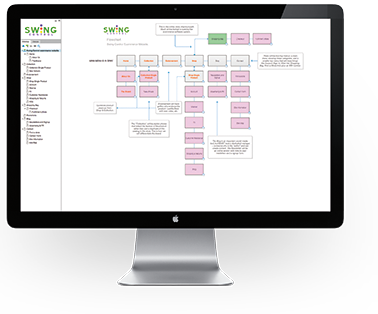 Click to view and enter password "upsc"
Click the image to the left to see our Website Design Interface and enter this password, "upsc". This is our prototyping tool for client collaboration from rough wireframes through finished design. With fully interactive capabilities showing all linking in the design phase. This makes the process quicker, more cost-effective and puts all design reviews and approvals online where they belong.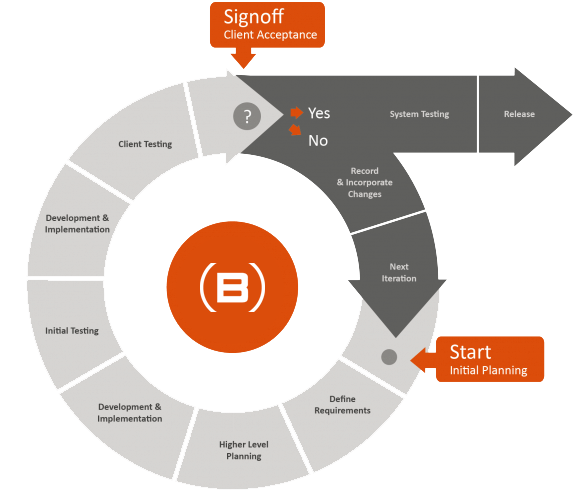 We use "Agile" methodology—the industry standard development process—to manage web development so we can deliver concept-to-market websites in an efficient and timely manner. This method allows you to oversee development, give feedback early and often.


OUR APPROACH TO WEB DEVELOPMENT HANDLES ISSUES BEFORE THEY BECOME ISSUES.

Select a topic for an expanded description.

DISCOVERY
The initial meeting is an important part of our development process. We are skilled at asking the right questions and getting to the right information needed to create breakout websites.
In depth client questionnaire and requirements analysis
Project kick-off meeting to fully define detailed content and functionality needs and wants
Determine the content management system
Project management system in place
Key team members assigned
Interface with client side management systems developed
Production schedule defined and tracking procedures in place

STRATEGY
To begin developing your new website, we research your stakeholders, market and target audience utilizing our proprietary "Strategic Tool Kit." This allows us to build strategies that will help engage, capture, and convert.
Brand profile
Unique Sales Proposition
Prospect Profile
Key Consumer Insight
Competitive business summary
Brand positioning developed or validated
Key basis for opportunity identified
Approved branding strategy developed
Creative brief stating objectives and goals

WIREFRAME
Wireframes are low-fidelity sketches of the website. They are used to create placeholders for content, establish priorities for elements on the page, and to document requirements. We collaborate with you to structure your website in the most effective way and this helps determine what features are most important for your website, what goals each group of users have, and what the most beneficial user experience would be.
Interactive clickable wireframe mockups
A site map and flow chart are visual organized models of a website's content. It is an interactive table of contents in which each listed item links directly to its counterpart sections of the website.
User experience developed
Social, mobile and analytics integration strategy

CONTENT
Just as function monitors structure; content precedes design. Copywriting for the web is challenging: the content must be brief, easy to scan and engaging. It should also utilize keywords that are important for the business to aid with SEO.
Research and discovery for full and complete data
Interviews with all key stakeholders
Complete company, product/service, market and competitive analysis
Content outline and revisions
Write and get approved finished copy for the complete website

DESIGN
From creative development to information architecture, user experience and final mockups, our design process encompasses the full development lifecycle. We ensure your website will work flawlessly on all platforms and devices using responsive web design, meaning your site will automatically fit any screen size whether users access it via a smartphone, PC or tablet.
Comprehensive layouts are completed showing a variety of options
User interface fully designed
Finished site design showing all graphic pages in a basic interactive format

DEVELOPMENT
Every web project is a custom-tailored solution. But we understand that leveraging existing technologies is important, so will help you seamlessly integrate a wide variety of web and server-based software into your site depending on your needs. Our team lead will work with you to plan and provide a staging environment where you can monitor and approve each step of the ever evolving website.
Developing the technology infrastructure
Prototyping
Template and page coding
Qualifications and testing

PROTOTYPING
A prototype is an early-stage, interactive preview of the website  in a browser. We use it to improve functionality, page load times and search engine visibility—all in an effort to ensure a smooth user experience. We also implement Google Analytics on every site we build to track performance and recommend improvements over time.
Build the development framework; the technical architecture of the website implementing the best performance optimization strategy

CODING
All our websites are "responsive." Think of responsive web design as a way to make your web content available to all emerging mobile devices through a single website. This includes additional steps at code level design to identify how the content should be served on desktops, tablets, and smartphones.
Code templates for each type of page, develop and test special features and interactivity
Build in current SEO standards and analytics at code level

QUALIFICATIONS
Qualifications is more than testing. Our developers and usability experts not only test functionality, but suggest improvements.
Final cross-browser check
Final cross-platform/device testing of all links and functionality
Full client approval process
Official launch of new websites

MAINTENANCE
A maintenance program is essential, and many companies cannot do this internally. All websites from corporate to retail ecommerce need to be maintained to keep them working properly, and to keep them compatible with the constantly changing technology and standards of the internet. Here are a few examples:
Maintain correct website functioning
Upgrade all elements of the website as an ongoing process to keep the technology current
To create and maintain consistant security and virus prevention
To guard against and handle spam and hackers
To maintain email account security
To increase SEO and page rankings
To modify content on an as needed basis
To configure, update and manage the hosting servers
WE EMPLOY COMPLEX TECHNOLOGY WITH ONE GOAL IN MIND. SIMPLICITY.

Web programming can be done in dozens of ways. We utilize leading edge standards.
Select a technology below see how we use a smart strategy that gives a competitive edge to our clients.
DIGITAL ADVERTISING
The Google Marketing Platform is a unified advertising and analytics platform that enables stronger collaboration for your marketing teams by building on existing integrations between DoubleClick and the Google Analytics 360 Suite. With Google Marketing Platform you can deliver faster smarter marketing.
CONTENT MANAGEMENT

At BLAIRCOMM we are WordPress experts. WordPress is an online, open source website creation tool written in PHP—the programming language of choice for web development. It is arguably most powerful and fastest growing website Content Management System (or CMS) in existence today and is fully supported worldwide.
WordPress is the most cost effective CMS available for companies of any size. It is "Open Source" and there is no financial commitment, yet it functions like a custom programmed CMS.
The intuitive user interface allows clients to manage their own websites, but is capable enought for advanced IT team customization. It is easy to maintain and update.
The platform is supported by advanced programmers at WordPress.org providing a state-of-the-art IT team free of charge.
The technology is robust and used worldwide. This means it is a commercially viable platform business can rely on.
There are milions of users worldwide keeping WordPress a constantly updated platfrom that is here to stay.
It utilizes industry standard, advanced web technologies and there is knowledgable technical support readily available.
There are add-ons and custom modules that provide nearly any function desired plug and play at a fraction of the cost of custom programming.
WordPress supports one of the most widely used ecommerce platforms on the web: WooCommerce.
It is secure enough for any applicaion across industries.
It supports multi-website management and/or intranet management.
ECOMMERCE

WooCommerce powers over 28% of all online stores and is now the most popular eCommerce platform on the web. It is also the most customizable eCommerce platform for building your online business.
We are WooCommerce experts.
Can be integrated into most client's CRM system
Fully customizable in look, feel and function
Supported by expert WooCommerce developers at no cost
In use worldwide for readily available experts
Utilizes industry standard technology
Utilizes fully secure transactions
STRUCTURE

As most know, HTML (HyperText Markup Language) is the most basic building block of the Web. It describes and defines the content of a web page. As with most languages, there are many ways to use it—but ony a few really optimum ways. We have spent years developing a smart way to create with HTML.
HTML poorly done can inhibit your SEO and block search engines from finding your website
We structure pages so they can be indexed easily by all search engines
Correctly done it can speed up your site's loading times and help conversion rates
It must be written so a stranger can look at it and understand exactly what to do
The HTML has to be easy to maintain and keep up with web standards
The mark-up has to be robust and bulletproof to protect you investment
STYLING

CSS is a language that describes the style of an HTML document. CSS stands for Cascading Style Sheets. It describes how HTML elements are to be displayed on screen and saves a lot of work and money. It can control the layout of multiple web pages all at once and can be written in many ways to achieve the same effect. Some however have hidden pitfalls that affect a website badly.
Poorly written CSS can slow the website down significantly and lose conversions
Good CSS is fast and efficient, achieves the desired resuls and gains conversions
Correctly done is can be viewed exactly the same across browsers and devices, including mobile
Advanced CSS compliments HTML and can achieve results replacing other technologies and make a site stand out
INTERACTIVITY

JavaScript is the programming language of HTML and the Web. It allows us to modify just about every aspect of the page: content, styling, and its response to user interaction. In short: JavaScript is the main web language that provides interactivity to websites. Used correctly it gives a dynamic user experience that makes a site popular, used poorly it can ruin the reach and viewability of a business website.
Good JavaScript is fast and nearly invisible to users
Poorly done it can generate errors on screen and slow a website to a standstill or freeze it
Bad JavaScript can prevent a website from loading entirely
JavaScript can do nearly anything to create the dynamic user experience expected today on the web
FUNCTIONALITY
PHP is a widely-used open source scripting language that is especially suited for web development and can be embedded into HTML. It is the most popular scripting language on the web and used to enhance web pages giving them functionality for a dynamic user experience. We utilize PHP to its full extent using the best current practices in conformation with web standards.
Bad PHP can slow or even freeze a website
Well done PHP is fast and invisible to users providing complex functionality
Outmoded or incorrect PHP can generate errors and crash the website
It must be written so it is understandable to other progrmmers for ease of maintenance
WIREFRAMES

A website wireframe is a visual guide that represents the framework of a website. Wireframes are created to arrange elements for a particular purpose and to see how the finished website will look and function before developing it.
Today, a wireframe must not only show design, but functionality and interactivity. We utilize a wireframing, rapid prototyping, documentation and specification software tool to create realistic wireframes that clients can access and test online before actual web development begins.
It is our prototyping tool for client collaboration from rough wireframes through finished design. With fully interactive capabilities showing all linking in the design phase. This makes the process quicker, more cost-effective and puts all design reviews and approvals online where they belong.
PROTOTYPING

GIT is the most widely used modern version control system in the world today. Version control software allows you to have many versions of a project showing the changes that were made to the code over time, and allows you to backtrack if necessary and undo those changes. This ability alone – of being able to compare two versions or reverse changes, makes it fairly invaluable when working on larger projects. It is used in creating a prototype of the finished website, can be worked on by many people at once, and accessed by the client's IT team for collaboration.
GIT mirrors the entire version history. Each developer always has a complete copy of everything. A central server is still used, but should the worst happen, then everything can still be restored from any of the stake holders who have the latest versions. Think of it as security in the midst of chaos.